Information For Speakers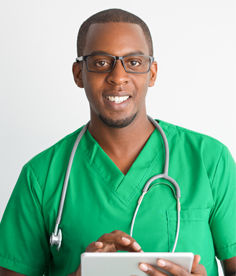 Medtalkz fosters South Africa's proud history of medical academia by providing a platform for academics to share their expertise with all health professionals registered on the site.

We invite you to share your expertise on the Medtalkz platform by recording your next lecture or presentation either live, before or after the event. Slide presentations (either Powerpoint or Keynote) together with your voice over are recorded and uploaded onto the site in video format thereby making it difficult to copy and protecting the integrity of the information. Content cannot be downloaded or saved. Users are only able to stream the content from the Medtalkz site.
HONORARIA
In due course, speakers and their societies or institutions (where applicable) will benefit through honoraria from shared revenue obtained through carefully selected and focused advertising. To avoid perversity, commercial entities and products will not be directly linked to speakers or their institutions and all local and international advertising and marketing codes will be strictly observed.

CPD
Medtalkz has been granted CPD accreditor status by SAMA.  Speakers are entitled to earn 3 CPD points for every talk delivered. This is in accordance with rule 'r' of the HPCSA rules pertaining to CPD. Medtalkz will automatically assign 3 CPD points to a speaker's CPD account where they are also a registered user on the site. Non-registered users will be able to obtain their CPD certificates by requesting this from Medtalkz on info@medtalkz.com.
COPYRIGHT
Copyright concerns are top of mind for most presenters, and rightly so. Your intellectual property will remain yours, regardless of any honoraria paid by Medtalkz. Medtalkz simply stores your information and ensures that it remains safe and secure into the future. Your information will not be plagiarised as users of the site are not be able to download, store or save the content.

To ensure that copyright belonging to others is not infringed, Medtalkz approached Werksmans Attorneys, a respected South African law firm with specialist expertise in copyright law, to provide guidance for presenters wishing to include material belonging to others in their presentations.

According to Werksmans, presenters and speakers may make use of someone else's material in order to make a point. However, they may not use more information than is necessary to make that point and are obliged to state the source and where possible reference the author.

Place your next talk or presentation on Medtalkz and make a difference to the future of healthcare in South Africa and abroad. Email info@medtalkz.com for assistance with recording your next presentation, or for more information.